Genesis Entrepreneurship Training
Launch your new business without losing your soul.
Genesis is a 9-week digital program focused on training early-stage entrepreneurs. Entrepreneurs will learn simple and practical tools to evaluate your business concept, create a business model, and build a plan for launch. 
Here's what you can expect throughout your 9 weeks of entrepreneurship training.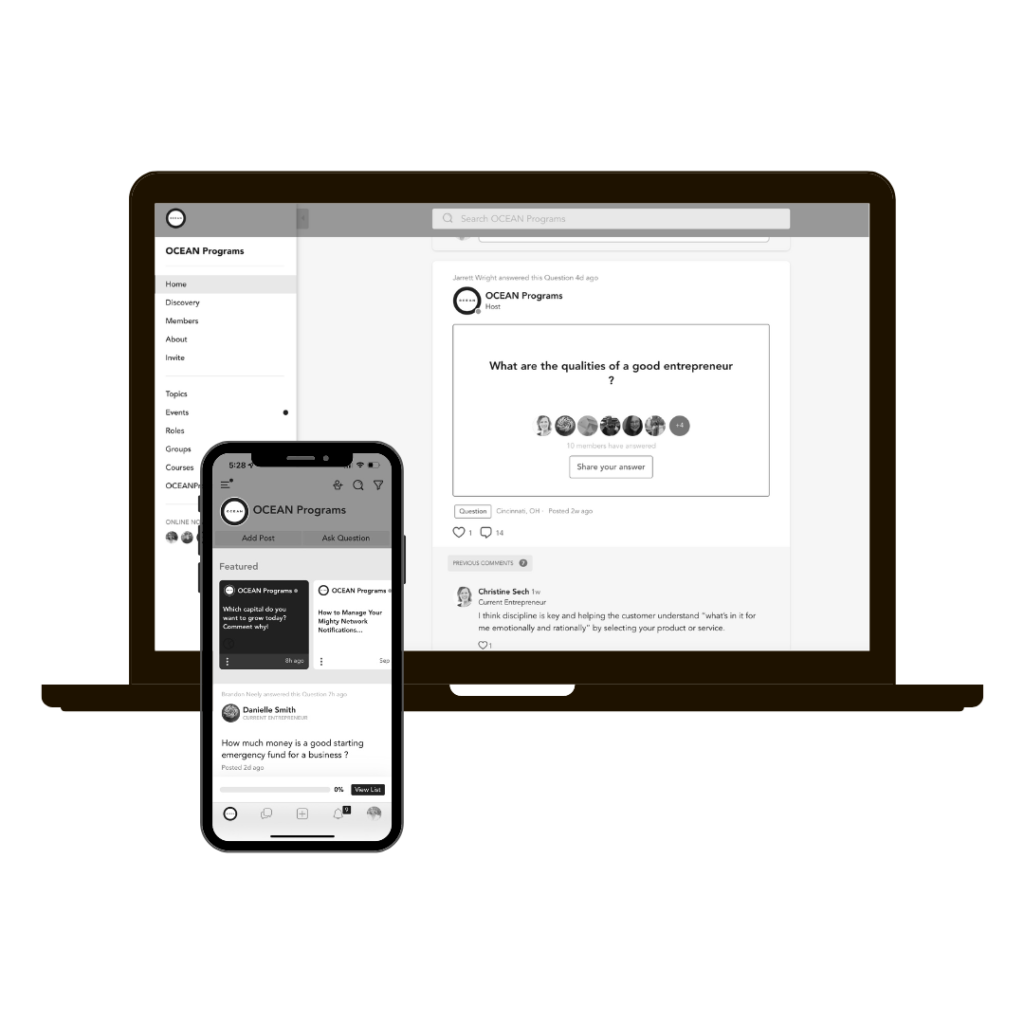 Practical Training in a Global Community
Genesis cohorts include entrepreneurs from all around the world! 
What Other Entrepreneurs Have Learned Through Genesis
"The tools given through the OCEAN course—worksheets, charts, forming a mission statement, etc.—helped very much and I have referred to them in my processes. I've also continued to further my education and business experiences with mentors."
"The community aspect was a big part of my decision to sign up for Genesis. Getting to bounce ideas off my cohort and see that they were struggling with the same things I was struggling with and helping each other through that stuff—that was the best part of it."
"I was already an established entrepreneur and I just didn't think it was for me…but there's always something you can learn. Genesis reinforced practices I was already doing and gave me new ideas. If you are in the beginning stages of your entrepreneurship, I would wholeheartedly say definitely this is the program for you!"
"What Genesis introduced me to is how to determine if I can make this into a business—at least in terms of unit profitability."
Meet Our Genesis Facilitators
Dr. Gordon Jones is a former healthcare executive turned techie. After graduating from The Citadel and serving two tours in the 82nd Airborne Div USA, he earned his Masters and Doctorate in Health Administration from the Medical University of South Carolina.
Learn more about Gordon
Abbi is skilled in Nonprofit Organizations, Event Planning, Customer Service, Crisis Intervention, Mission Development, Data Collection and Strategic Planning. Abby is a strong business development professional with a Masters in Public Health and working on my Doctor of Philosophy (PhD) focused in Hospital and Health Care Facilities Administration/Management from Walden University.
Learn more about Abi
Brenda helps others pursue their passion by pursuing mine. She is a business Professional utilizing her qualifications in business, organization development, and coaching, to develop professionals into strong leaders within the workplace and community. Specialties: Coaching. Creative Leadership Development. Innovation. Organization Development. University/College Engagement.
Learn more about Brenda
With the spirit of an entrepreneur, a passion for scaleable technologies, and the heart of a teacher, Ryan has found myself in many opportunities to help organizations that mentor others to grow and to thrive. Ryan loves personal growth, creativity, clever business models, strategy, marketing, and naively big ideas. He wants to be a part of big bold ideas supported by creativity and innovative business models.
Learn more about Ryan
Called To Create

Community, Work, Your Why, First Fruit
Your Customer
& The Problem
Jesus the Builder, Business Model Canvas, Customer, Problem & Testing
Solutions & Value

Resources, Solutions & Benefits, UVP, Advantage, Elevator Pitch
Channels & Marketing

Message, Marketing, Selling, Channels, Cost
Financial Capital


Spiritual Capital, Costs, Price, Break-Even, Cash Flow
People & Systems

Sustainable Rhythms, Structure, Accounting, Key Metrics
Funding & Moving Forward


Leadership, Goals, Action Plans, Funding
Go-To-Market & Operations


Impact, GTM Plan, Operations, Big Pitch
Talk with an OCEAN Team Member
Entrepreneur Readiness Workbook
Thinking of launching a new side-hustle or branching out into your own business?
Download an interactive I Am Ready Workbook that will help you figure out if you're ready to take the leap into entrepreneurship.